Leaky Chimney
Troubleshooting Chimney Problems
Water can enter chimneys through a variety of places and can damage many components of the chimney and fireplace. In order to effectively determine where water is entering, your technician will need to complete a thorough evaluation of the chimney and fireplace.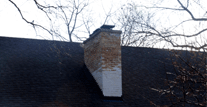 Leaking Chimneys
Areas to be evaluated include the cap, crown, house seams, brick and mortar joints, shoulders, and flashing provided we can reach the chimney with a 32 foot ladder. Downspouts and gutters can allow too much water to accumulate at the chimney. Grading of the yard can cause leaks in the firebox. Improper venting of the furnace and hot water tank can cause water issues and condensation issues as well. The basement and attic areas of the chimney will be evaluated if they are accessible.
The technicians will run a camera inside the fireplace chimney to determine if water has damaged the interior components and to verify that the system is usable.
We have found that a complete evaluation is needed to help pinpoint what areas of the chimney are a problem and to avoid continued water leaking and irreversible damage.